DON'T MISS IT! - END OF YEAR PROMOTION, 15% discount until 31 December 2018!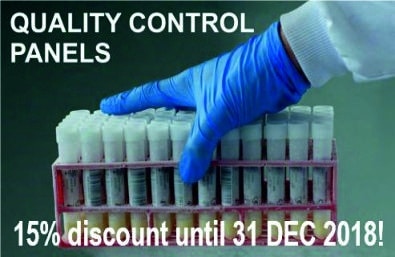 DON'T MISS OUR END OF YEAR PROMOTION, 15% DISCOUNT!
We are offering you a chance to stock up to start next year at discounted prices. 15% discount* on our quality control panel range until the 31st December 2018! Don't miss the opportunity! Mention discount code EYP2018 and get invoiced and delivered before end of 2018!
*This offer applies to end user prices and our standard terms and conditions of sale apply.
QUALITY CONTROL PANELS
Performing a quality control is the best way to ensure accurate test results, so using our range of QUALITY CONTROL PANELS provides a benefit to both your patients and the reputation of your laboratory.
We can offer you a wide choice of panels that can challenge the sensitivity, specificity and working range of your assays or be used for diagnostic development or batch release in manufacturing. Panels include representative data from current assays on the market.
Our range of VERIFICATION / VALIDATION Panels are designed to use with assays to determine the presence of antigen, antibody RNA or DNA based upon the intended use of the panel.
We also have an extensive range of SEROCONVERSION PANELS for detection of asymptomatic donors infected with HIV, HCV, HBV and EBV, as well as SURVEILLANCE PANELS and LONGITUDINAL PANELS.
Our panels are run on as many different diagnostic kits as possible to measure relevant markers of seroconversion.
All testing is performed by Certified Reference Laboratories and Domestic and International Regulatory Bodies.
Our range of SEROLOGICAL CONTROLS, the SeraCon Run Controls, are intended for use in assessing the performance of immunoassay test procedures for the qualitative determination of HBsAg, anti-HIV and anti-HCV.
Find quickly your panel on our products page or contact our customer service for any help.